Yes, we heard you! We're now taking back your SPUD cardboard boxes. Give a warm welcome our new hero: a cardboard shredder.

For us, finding ways to reduce waste is one aspect we never underestimate the importance of. And we're always working towards revamping it.
Did you know that cardboard and paper make up around 41% of solid waste streams, and approximately 13,000 separate pieces of cardboard are thrown away by an average household?
But we've got an easy solution to help recycle the SPUD cardboard boxes efficiently.
Step 1: We'll take back your SPUD cardboard boxes
Step 2: We'll recycle the cardboard boxes using our cardboard shredder machine.
---
What a cardboard shredder will do for the environment
This waste reduction strategy will not only repurpose the cardboard, but also help prevent potential food waste that occurs due to damage while transporting.
Before you think we're buying new cardboard each time, keep reading! Our shredded cardboard is pre-used. In fact, we're giving existing cardboard a second life!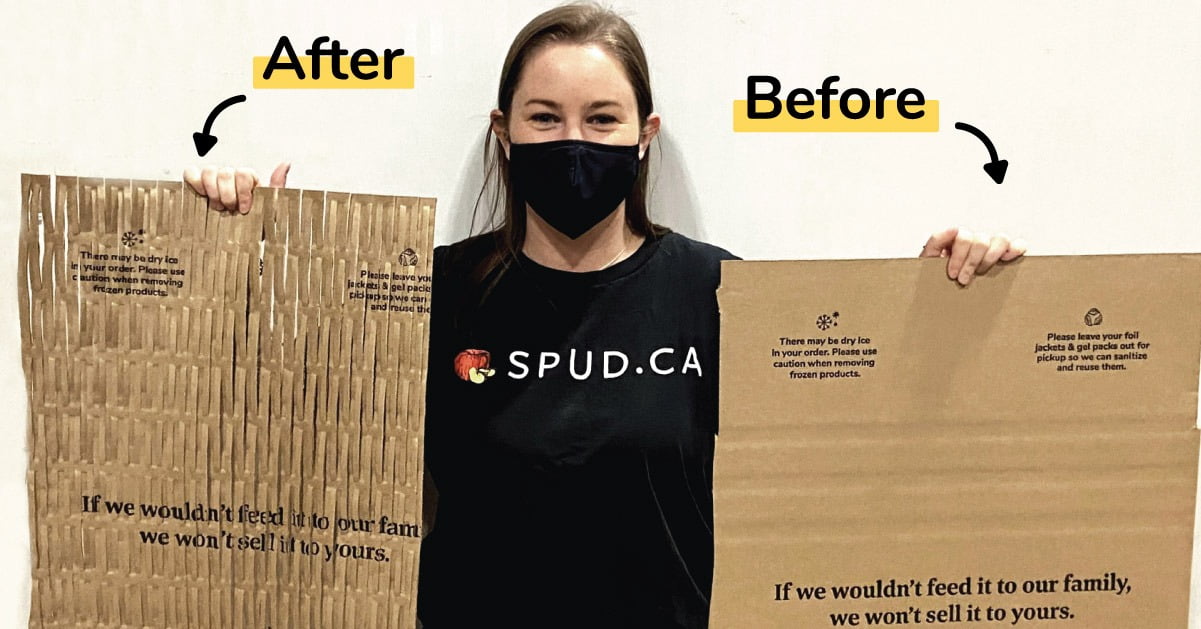 How the cardboard shredder works
For our Edmonton customers:
We will pick up flattened 

SPUD 

cardboard

 boxes

 

when we make a new delivery 

 
Currently, Edmonton is our pilot location. Vancouver and Calgary customers can still return SPUD cardboard boxes to us and we'll recycle them. We're hoping to have a cardboard shredder in all locations soon!  
---
What you can do as a SPUD customer to help
Step 1: Support us in this initiative and help us shred as much cardboard by returning your SPUD cardboard boxes to us! 
Did you know that recycling one ton of cardboard will save 46 gallons of oil, 4000kW of electricity, 6.6 million Btu's of energy, 9 cubic yards of landfill space, 17 trees and 7000 gallons of water?
Step 2: Share about our sustainability initiatives with your friends and family
This way we can persist on finding better ways on reducing waste, protecting and packing your groceries efficiently and together as a community continue on saving natural resources.
---
If you receive a cardboard box with your SPUD order, we encourage you to flatten it and leave it outside your door for our driver to pick up during your next delivery. From there, we will repurpose or recycle the cardboard, contributing to our efforts to reduce waste. Let's all be part of the solution—together!