When it comes to getting your kids to eat healthy food, it's often a tricky affair. You usually have to get creative to help them have a well-balanced diet. Some resort to hiding ingredients in more kid-friendly foods, while others highlight eye-catching colours. If you're struggling to get your little ones to eat healthily, there's another reliable option — turning food into their favourite animals. It requires some creativity, sure, but transforming food into your children's favourite creature will make them more willing to eat items they otherwise wouldn't.
Here are Animal Snack recipes to get started:
Panda Sushi
 

 

View this post on Instagram

 
Credit: @bentomonsters on Instagram
Anything panda is usually a hit with children, so there's no doubt that your kids will be delighted with panda-shaped sushi served to them. And while the idea of creating tsum tsum treats seems complicated, you actually only really need a few ingredients and a trusty rice cooker to make them. The best rice cooker in this case would be a multi-functional one, as you can make more Asian-themed animal snacks if you put a bit more effort (and imagination) into the task! These versatile rice cookers are equipped with built-in steamers that can also let you make small baos with faces on them. But concerning panda sushi, you would need to cook sushi rice the regular way, mould it into a panda bear shape, use nori cutouts to create the face, and use sauce mix to put the components together. You can even add toppings like salmon, tamago, or shrimp and make them look like "hats."
Teddy Bear Toasts
Credit: @itsindyra on Instagram
[phone]

[/phone] [notphone]


[/notphone]
If you want to involve your kids in the cooking process, one of the easiest treats you can make is the teddy bear toast. For one, it doesn't require a long time to create. For another, the tools involved are kid-friendly. Children can usually start tinkering with kitchen appliances around age 6, and toast is a great first dish that they can "cook" on their own. After all, oven toasters are not difficult to use, so long as you impart with them proper toaster safety. All you need to do is toast bread, spread your condiment of choice on top, add a banana slice on the centre for the bear nose and another two on the top right and top left corners for the ears. For variety, you may add blueberry on the eyes for a fun and yummy touch.
Oatmeal Owls
Credit: @myoatmeal on Instagram
More often than not, it's challenging to get your kids to eat something bland like oatmeal. But food like oats deliver an impressive amount of both fibre and protein, not to mention quick and easy to create, so they make for an ideal dish for children. Plus, it's sugar-free, as opposed to popular breakfast goodies like boxed cereal. To get your kids to munch on oatmeal, the trick is to gather the right ingredients to create "oatmeal owls." All you have to do is cook oatmeal like you usually would, and add things like almond slices, strawberries, and sunflower seeds to assemble the face. When you serve it this way, the meal won't be as dull, and it will have a dash of flavour, too.
Check out other healthy and fun kid snacks to help feed their imaginations this September.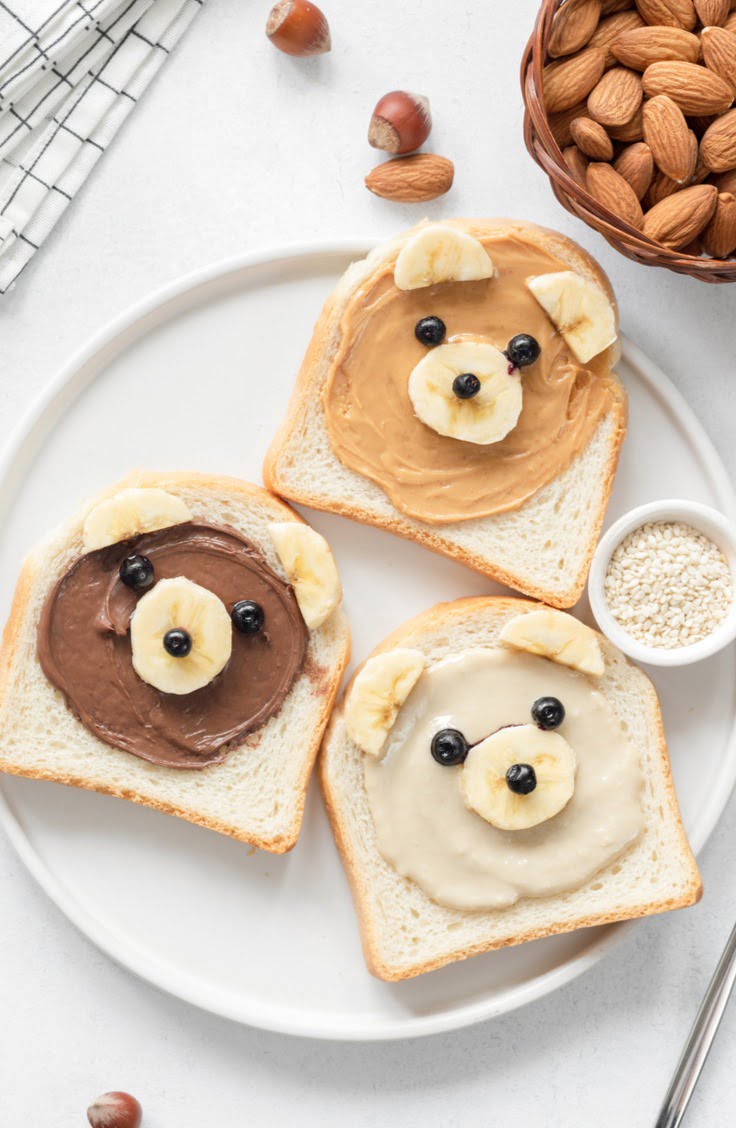 Article contributed by Alessandra Roberts
For the exclusive use of spud.ca